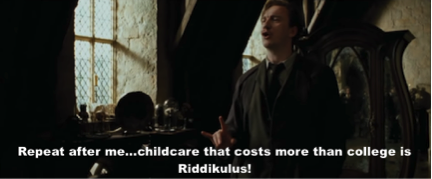 It's been twenty years since the liberate of Harry Potter and the Sorcerer's Stone and at thirty-two I'm ecstatic that J.K Rowling's astonishing magical world-wide is still alive and well for our kids with the re-release of all Harry Potter movies this Friday on August 31 st( is now time to pull out my Gryffindor scarf !) and the brand-new Marvelous Beasts movie being released this November.
I grew up reading these amazing books and 20 years later I still find myself wishing I lived in the Wizarding World, but now as soon to be momma, it's less about charms and duelling dragons and a lot more about had wished to magically solve problems that come with has become a new parent living in a nation that simply doesn't prioritize families — starting with figuring out how the heck our family is going to afford excellence childcare.
I requirement an Olivander's wand so I can obliviate my impending childcare statutes that competitive college tuition cost and transfigure my sweet "cat-o-nine-tail" into a human for an extra pair of helping hands. Is that is actually too much ask?
And with more than a million millennial girls growing mommies per year, I know I'm not the only one wishing someone would work some magical. Data released earlier this year from Child Care Aware shows that the annual cost of infant care takes up more than half of a millennial's median wage. Over half! We are suffering a childcare crisis. If households like mine with two good incomes can't afford to pay childcare, where does this leave most families? Worst yet, childcare workers, many of who are moms themselves, are among the lowest-paid laborers in our commonwealth. We may need to recruit Hermione to start a new S.P.E.W. — Support for Parents and Wearied Laborers!
The reality is that all families want high-quality care and education options for their children and for lecturers to get the fair compensation they deserve, but we can't do it alone. Mothers and caregivers are trying the very best, but there is only so far we were able to stretched.
That's the bad news. The good report is we don't need magic to solve this problem.
Our elected leaders in Congress already have the power to attain the large-hearted answers we need to solve the childcare crisis in this country by supporting continued investments in child care, including co-sponsoring the Child Care for Working Families Act — a comprehensive legislative solution( i.e. no sorcery required !) that they are able to expand access to affordable, high-quality childcare and pre-K for families while improving compensation and training for the childcare workforce.
This isn't only the right thing to do for families and the workforce, it's the smart thing to do. Experiment been demonstrated that what we put into care and education programs impacts outcomes in the case of children. To be highly effective, early hear programs need to have the right mix of high-quality parts( like low ratios, rich curriculum and coaching for early memorize educators, and engaging situations) to best cook our children preparing to and successful in academy and life while helping prevent opportunity gap before it even starts. Furthermore, economists have shown that high-quality early learning programs for children increases our economy and saves the government as much as 13% for every dollar invested. I necessitate, who are required magic with answers like these already within our clasp ?!
It's time for our elected leaders to step up and stand up for families like excavation, that path I can focus on the magic of delivering my babe girlfriend into the world instead of wishing for a magical rod to erase my childcare statutes.
Wishing for a little childcare sorcery yourself? Tell us your experiences statements below!
Read more: momsrising.org